< back to blog
Style focus: the quirky creative
A home is not just a place you live in, but is also the perfect canvas through which to express yourself. With an endless stream of interior design styles to inspire you on Instagram, Pinterest, and in those beautiful home magazines, it can be overwhelming when trying to settle on a look that suits you best. This month, we're introducing a brand new "Style Focus" series, where we'll focus on six different looks, to help you discover and create an interior that perfectly reflects your personal style.
We're kicking the series off with "The Quirky Creative", a look which truly embraces the little nuances and unexpected twists that make for truly unique furniture pieces for a home style that is totally individual. From designs characterised by stunning, geometric shapes, to upcycled furnishings that have been given a new life, these pieces are sure to give your space that extra-cool factor while fostering endless creativity.
Shape shifters
Take note: geometric shapes are having a moment this season. With clean lines and sharp angles, these pieces are a brilliant way to give your home an effortlessly cool refresh, and work seamlessly across all interior design styles. Instead of your typical round or rectangular-shaped coffee table, opt for a piece with a hexagonal silhouette – it's an unexpected twist that will certainly make a naturally stunning, contemporary design statement in your living room. For larger settings, group two to three tables together, which will also create an impactful centrepiece while adding visual interest to your space.

Get the look: Fendy hexagonal coffee tables | Leona sofa (in-stores only)
If you're looking for a subtler way to inject this quirky-cool trend into your home, then a geometric print may be right up your alley. Whether you opt for a patterned throw cushion, fabric, flooring, or furnishing, this bold motif can be easily muted down by using a neutral or monochromatic palette. One of our favourite ways to incorporate this trend in a striking graphic way is with eco-wood furniture bearing a mosaic surface. Much like Dutch artist Piet Mondrian's ingenious paintings, there's a playful contrast between the modern, geometric patterns and the rustic chic materials, which gives way to a functional item that doubles as a natural work of art.
Get the look: Mondrian coffee table

On the surface
When scouting for furniture, there's a tendency to place more focus on the silhouette of a piece, but don't forget about the materials it's lovingly crafted from! For something a little out of the ordinary, opt for a design that that places an emphasis on unique craftsmanship or an unconventional mix of materials. Strips of mixed hardwood can create a striking spectrum of tonal browns, and make for unique, inspirational furniture pieces that are sure to create conversation and keep the creative juices flowing. Meanwhile, pieces that bear a distinctive patchwork design make a stunning option to add just the right amount of a funky flourish to your home. Whichever you prefer, you can rest assured that these eco-chic pieces were crafted with sustainability in mind!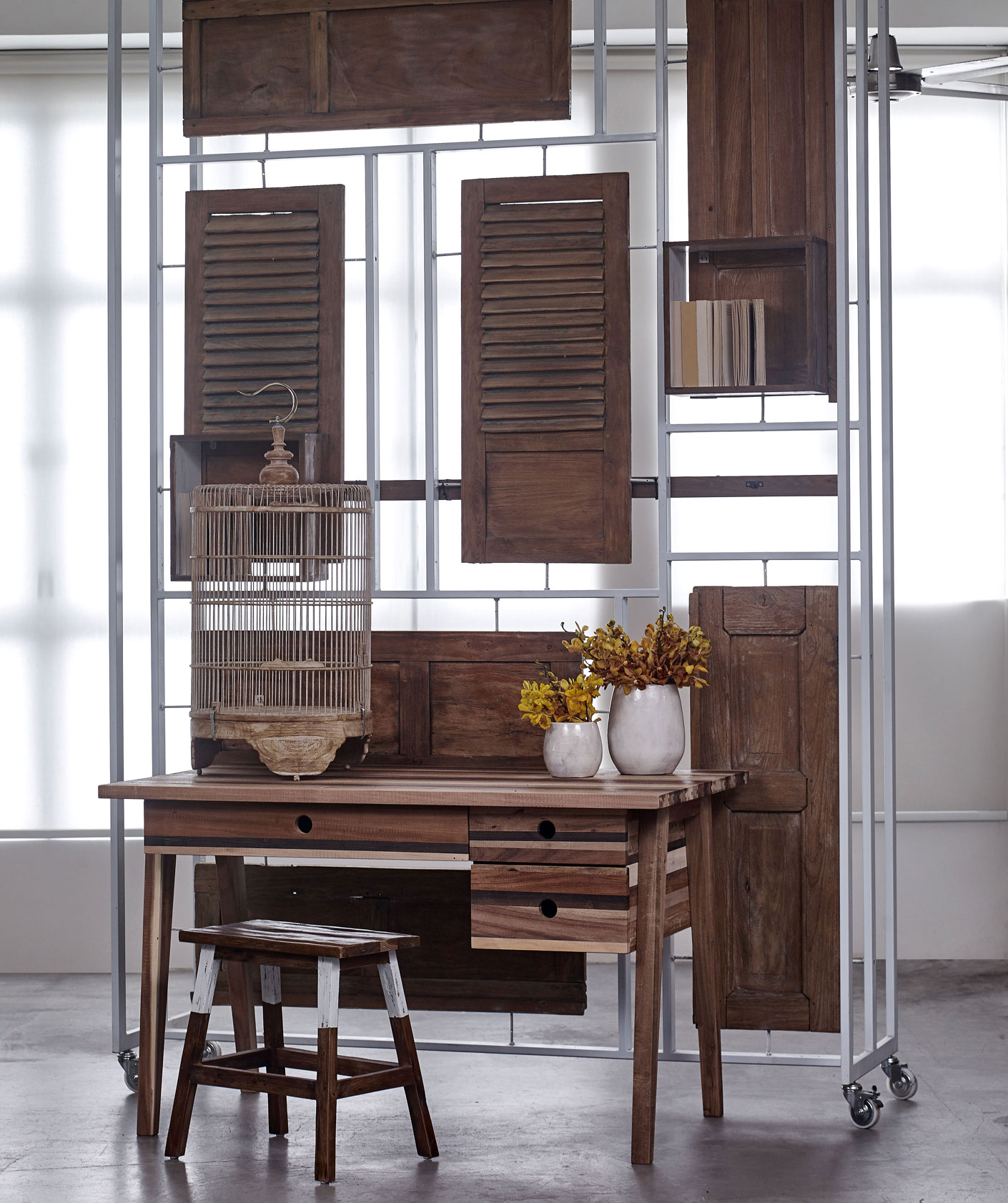 Get the look:
Top: Brooklyn desk table
Bottom: Pop stool
Nothing says quirky-cool like upcycling a preloved item, and giving it a new life as naturally stylish furniture. Repurposed pieces enable you to channel your inner creative by using them in new, unexpected ways, and are sure to get a conversation started when guests are over. Old-fashioned sewing tables work wonderfully as a console to display your finishing touches, with industrial iron legwork providing the perfect base to complement your setting. Or, if you want to take this trend to the walls, look for a coat rack with hammer heads for hooks – a characterful, rustic décor piece that truly hits the "upcycling" nail on the head!
Get the look:
Top: Sewing table console
Bottom: Solo hammer coat hook
So whether it's clean-angled, geometric shapes, head-turningly unusual materials or uniquely repurposed furniture pieces that inspire your quirky-cool side, we hope these tips help you along the way to defining your individual home look – and remember, creativity never goes out of style!
< back to blog